Tweet
Make good of the flat 15% off on Flowers & Cakes
---
Giftstoindia24x7.com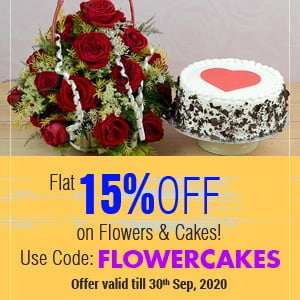 Offer Description:
Any time is great to send flowers & cakes to your dear ones in India. The extra flat 15% off just makes things better! Hurry! Offer valid till 30th September 2020
Date:
Mon 14 Sep 2020
-
Wed 30 Sep 2020
Category:
Flowers and Gifts
,
View all Flowers and Gifts Deals
Coupon Code:
Show coupon code
FLOWERCAKES
Save this deal
Send to Friend
This listing was added 14 days ago
---
This deal listing information was provided by a powox user. [
Report Abuse
]
This deal listing has been viewed 15 times.
Post a comment
Did this deal work for you? Let us know(No html tags!)
Sign up to receive Giftstoindia24x7.com Coupons and Deals.
Related Deals and Offers

Giftstoindia24x7.com - Flat 10% off on Home Furnishing gifts? That's right!

End Date: Wed 30 Sep 2020

Giftstoindia24x7.com - Celebrate birthdays of your loved ones with flat 10% off on Birthday Cakes

End Date: Wed 30 Sep 2020

Giftstoindia24x7.com - Flat 10% off on Home Furnishing gifts? That's right!

End Date: Wed 30 Sep 2020