Tweet
10% Off on Home Decor Gifts
---
Giftstoindia24x7.com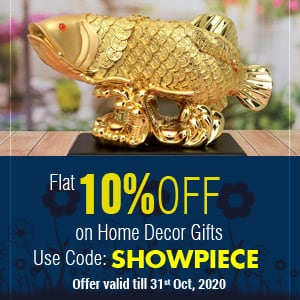 Offer Description:
This festive season, give the homes of your loved ones, a grand makeover! Send home decor gifts to India at a flat 10% discount with the code "SHOWPIECE" till 31st October 2020!
Date:
Mon 12 Oct 2020
-
Sat 31 Oct 2020
Category:
Flowers and Gifts
,
View all Flowers and Gifts Deals
Coupon Code:
Show coupon code
SHOWPIECE
Save this deal
Send to Friend
This listing was added 13 days ago
---
This deal listing information was provided by a powox user. [
Report Abuse
]
This deal listing has been viewed 13 times.
Post a comment
Did this deal work for you? Let us know(No html tags!)
Sign up to receive Giftstoindia24x7.com Coupons and Deals.
Related Deals and Offers

Giftstoindia24x7.com - 10% off on Navratri Gift Hampers

End Date: Sat 31 Oct 2020

Giftstoindia24x7.com - 10% Off on Karuwa Chauth Gifts

End Date: Sat 31 Oct 2020

Giftstoindia24x7.com - 10% off on Durga Puja Gift Hampers

End Date: Sat 31 Oct 2020