Tweet
10% Off on Valentine Personalized Gifts
---
Giftstoindia24x7.com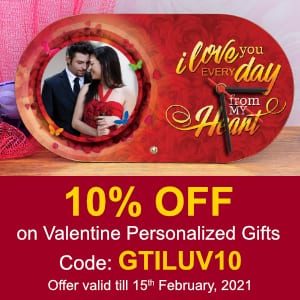 Offer Description:
Save big on this Valentine's Day when you shop for personalised gifts with us. Here's a flat discount of 10% with the code GTILUV10 on us. Spread the love and make it big on the day of love! Hurry! Claim this fabulous deal before 15th February 2021
Date:
Wed 13 Jan 2021
-
Mon 15 Feb 2021
Category:
Flowers and Gifts
,
View all Flowers and Gifts Deals
Coupon Code:
Show coupon code
GTILUV10
Save this deal
Send to Friend
This listing was added 7 days ago
---
This deal listing information was provided by a powox user. [
Report Abuse
]
This deal listing has been viewed 11 times.
Post a comment
Did this deal work for you? Let us know(No html tags!)
Sign up to receive Giftstoindia24x7.com Coupons and Deals.
Related Deals and Offers

Giftstoindia24x7.com - 15% Off on Valentine Serenade Gifts

End Date: Mon 15 Feb 2021

Giftstoindia24x7.com - 10% Off on Valentine Gift Hampers

End Date: Mon 15 Feb 2021

Giftstoindia24x7.com - 15% Off on Valentine Roses

End Date: Mon 15 Feb 2021