Tweet
10% Off on Lohri Gift Hampers
- This offer listing has expired
---
Giftstoindia24x7.com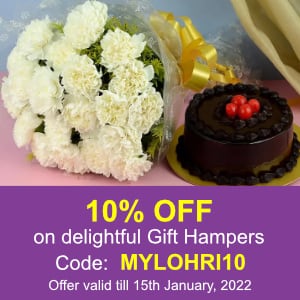 Offer Description:
Lohri is a harvest festival that is highly popular in North India. We present to you special gift hampers on the occasion of Lohri. Much to your delight, you can now use the code MYLOHRI10 to enjoy a discount of 10%on our gift hampers. Delay no further as the offer ends on 15th January 2022.
Date:
Tue 7 Dec 2021
-
Sat 15 Jan 2022
Category:
Flowers and Gifts
,
View all Flowers and Gifts Deals
Coupon Code:
Show coupon code
MYLOHRI10
Save this deal
Send to Friend
This listing was added 1 months ago
---
This deal listing information was provided by a powox user. [
Report Abuse
]
This deal listing has been viewed 44 times.
Post a comment
Did this deal work for you? Let us know(No html tags!)
Sign up to receive Giftstoindia24x7.com Coupons and Deals.