Tweet
10% off on Pongal flower hampers
- This offer listing has expired
---
Giftstoindia24x7.com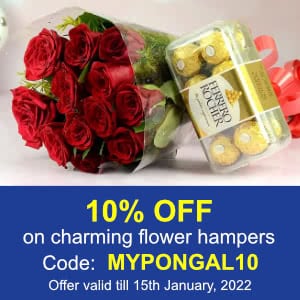 Offer Description:
The festival of Pongal is celebrated with greatest fervour in various parts of India. If you are unable to spend Pongal with your dear ones, you could send our flower hampers. Keeping the festive spirit of Pongal in mind, we present to you a discount of 10% on our flower hampers. Hurry up and avail this offer before 15th January 2022.
Date:
Tue 7 Dec 2021
-
Sat 15 Jan 2022
Category:
Flowers and Gifts
,
View all Flowers and Gifts Deals
Coupon Code:
Show coupon code
MYPONGAL10
Save this deal
Send to Friend
This listing was added 9 months ago
---
This deal listing information was provided by a powox user. [
Report Abuse
]
This deal listing has been viewed 128 times.
Post a comment
Did this deal work for you? Let us know(No html tags!)
Sign up to receive Giftstoindia24x7.com Coupons and Deals.
Related Deals and Offers

Giftstoindia24x7.com - Get 15% off on sending gifts for Mom

End Date: Sat 31 Dec 2022

Giftstoindia24x7.com - Get 15% off on sending gifts for sister

End Date: Sat 31 Dec 2022

Giftstoindia24x7.com - Get 15% off on sending Flowers to Chandigarh

End Date: Sat 31 Dec 2022